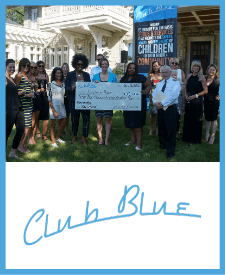 Club Blue
The Club Blue grant program was established to raise funds to supply the basic goods and services that promote the safety, health, and well-being of children in need in our community.
In 2011, a small group of women gathered in a Rockford home and were shocked to learn of the alarmingly high rate of child abuse in the area.  They learned of the good work being done at the Carrie Lynn Children's Center, an organization dedicated to supporting the victims of child abuse. Deeply moved, the women decided to take action with the goal of building community awareness and financial support for organizations that help our community's at-risk children by hosting a different kind of fundraiser. And just 82 days later, the first Club Blue fundraiser was held and raised over $100,000 for the Carrie Lynn Children's Center.
In 2014, the Club Blue Angels spread their wings and began to share the good fortune with other 501c3 organizations who fell under their mission.  They partnered with the Community Foundation of Northern Illinois and developed an inclusive grant application process to allow other organizations to benefit from its fundraising success and support of generous community partners and sponsors.
After eight years, Club Blue has raised over 1.5 million dollars and has brought attention to the needs of our community's children and the nonprofits who serve them. Club Blue continues to collaborate with the Community Foundation of Northern Illinois in order to grant funds to area nonprofits that serve children while building a legacy by creating an endowment that will support their mission in perpetuity.
Club Blue is especially grateful to the more than 200 business and personal contributors who have generously donated funds, goods, and services to make Club Blue a success.
Due to the current COVID-19 crisis, the Club Blue grant is closed; there will not be a Club Blue cycle in 2021.