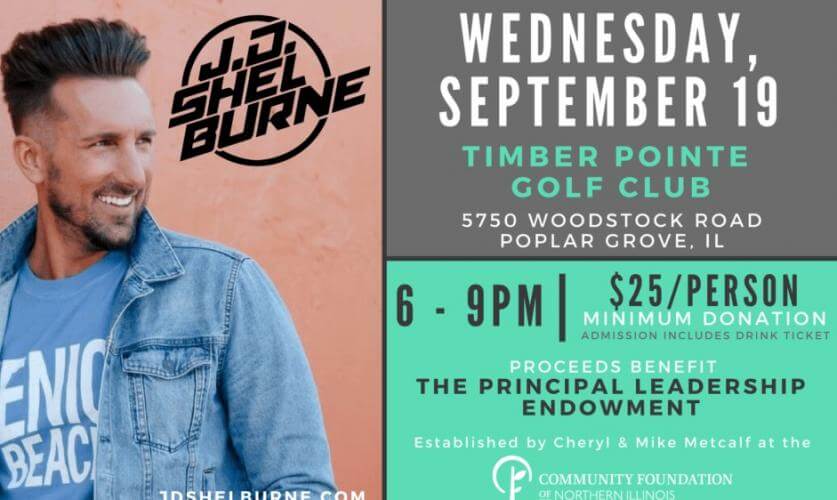 2nd Annual JD Shelburne Concert in benefit of the Principal Leadership Endowment
September 17, 2018
On Wednesday, September 19, 2018, Cheryl and Mike Metcalf will host a benefit concert by JD Shelburne at Timber Pointe Golf Club. Shelburne is a singer and songwriter from Nashville, TN who plays a style of country music that is deeply influenced by gospel and pop. He's currently on tour promoting his 2018 album "Two Lane Town"; the day before the benefit concert the music video for his song "One Less Girl" will premiere on CMT! You can learn more about J.D. and hear some of his music on his website.
The concert's proceeds will benefit the Principal Leadership Endowment that Cheryl and Mike established at the Community Foundation of Northern Illinois. The endowment will provide grants to encourage and assist aspiring or new principals in developing leadership skills to become successful school principals and to support them with the transition from being an exceptional teacher to becoming an exceptional school leader.
Cheryl is a former principal. In her career, she mentored and supervised principals throughout Northern Illinois. "It has become clear to me that successful principals are those who have received the very needed support developing skills to deal with adversity and maintain the vision for the school and the students they serve," Cheryl said. The Principal Leadership Endowment will provide just that kind of support for our region's next generation of principals.
If you can't make it, but would still like to contribute to the endowment, you can either donate online through the Community Foundation's donation page: https://donatenow.networkforgood.org/cfnil.
Or you can make a check out to the Community Foundation of Northern Illinois and write "Principal Leadership Fund" on the memo line. Please mail it to the Community Foundation's office at 946 N. Second Street in Rockford. The Community Foundation of Northern Illinois is a 501(c)(3) nonprofit organization, so your gift will be tax deductible.
We hope you can make it!