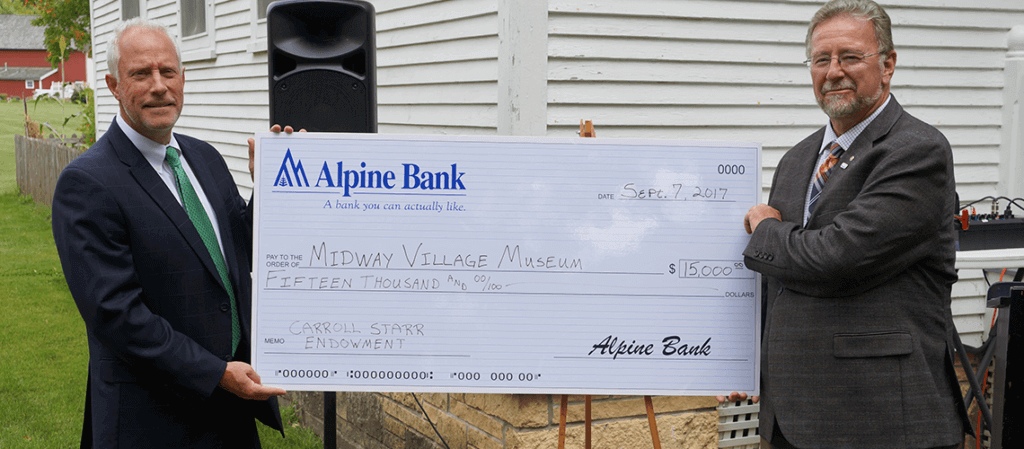 Midway Village Nears Carroll H. Starr Challenge Goal
Midway Village Museum is closing in on its goal to raise $150,000 as part of the Community Foundation of Northern Illinois Carroll Starr Endowment Challenge campaign. The museum launched its campaign in December 2016 and recently received a major Leadership Gift from Alpine Bank in the amount of $15,000. The Leadership Gift helped the museum move closer to its goal of $150,000 for the campaign. More than $100,000 in gifts has been received since December 2016.
"We, at Midway Village Museum, thank Alpine Bank for their Leadership gift," said David Byrnes, President, Midway Village Museum. "If the museum can raise all of the $150,000, the Community Foundation of Northern Illinois will give another $50,000 for the endowment. This is important for the future – as preserving our history creates a legacy for future generations, an endowment creates a legacy to ensure Midway Village Museum can present educational programs in the future, too."
"Alpine Bank is always proud to support opportunities for education," said Matt Roegner, EVP & Chief Lending Officer, Alpine Bank. "We're thankful for everything that Midway Village has done to preserve our community's rich history and to make it accessible to future generations."
As government support continues to decline, Midway Village Museum must have other sources of support to make sure our history survives for future generations. Historic preservation and education are forever; the Museum needs a source of support that will last far into the future.
Building an endowment is an increasingly common goal among charities of all sizes. In fact, the number of organizations nationwide with endowments has doubled in the past few years. Donors know that establishing an endowment marks a point of fiscal maturity in an organization, indicating that it is thinking strategically about its future and about its role in the community.
"A very important financial goal of the museum is to keep growing the endowment as this is our financial protection for the future," said David Byrnes, President, Midway Village Museum. "As the endowment grows, it will deliver a steady, reliable income stream that will provide financial protection into the future. We will continue to look at ways to increase this financial resource."
The Carroll H. Starr Endowment Challenge is named after the local business and community leader who helped found the Community Foundation of Northern Illinois in 1953. He called endowment "a permanent reservoir of charitable resources."
"An endowed gift is a profound gift," said Jon Bates, President of the Community Foundation of Northern Illinois. "Its profundity is in its promise to the future. And while we may not know what the future holds, we do know that we'll need to understand our history when we get there. To understand our history, we need to sustain organizations like Midway Village through the power of endowment."
For further details, about Midway Village Museum or the endowment challenge you may call David Byrnes at 815-397-9112, ext. 103, or you can make a donation online.