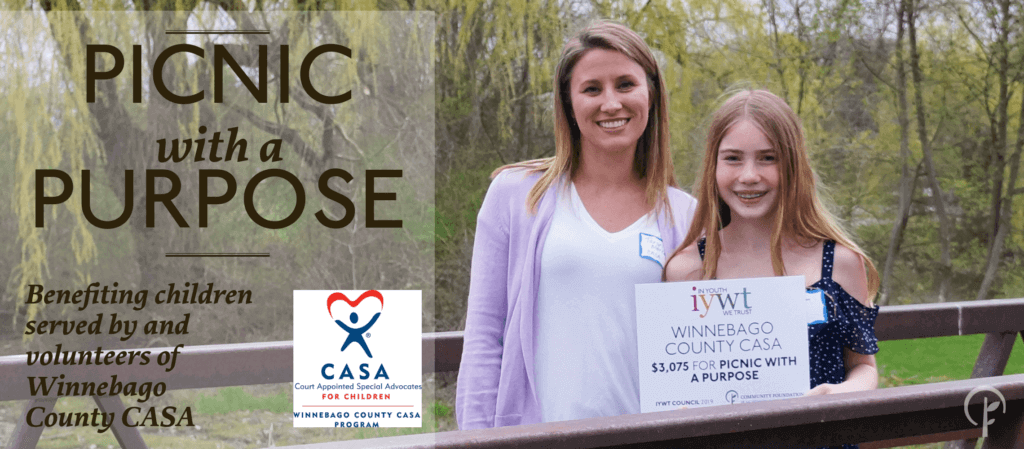 Picnic with a Purpose
July 23, 2019
Hi. My name is Lucia Horton. I am 13 years old, and I applied to the In Youth We Trust grant because I wanted to do something for the children who are in CASA in Winnebago County, through no fault of their own.
Winnebago County "Court Appointed Special Advocates" For Children, known as CASA, is a nonprofit organization that speaks up for children who have been neglected, by having advocates for them in the court system. They believe that every child deserves to live in a safe home.
I first found out about CASA seven years ago, when my brother, who we fostered, had CASA volunteers helping to decide what was the best outcome for him. Whether he should be placed with our family or placed with his original family. They provide support to help the judge make the right decision for each child they see.
When I heard about the In Youth We Trust grant, I thought about what I could do to make a difference in the lives of the children who are in CASA. I decided to host a picnic where we could provide a fun day with food and entertainment and give them either a "Snuggle Pack" or a hygiene pack, based on their age. We decided to call this Picnic with a Purpose. I also wanted them to be able to have fun with their CASA worker, so they can build a relationship with them outside of the homes that they visit them in, and outside of court.
At Picnic with a Purpose, they will get the chance to just be a kid for the day, without worrying about where they'll live.
Last year, CASA served 296 children and Winnebago County CASA currently has 111 volunteer advocates – many of them serving 3 or more children. It is my hope that Picnic with a Purpose can bring joy and happiness to as many of these children as possible and that it can become an annual event for the CASA kids and volunteers.
I'm very thankful to the Community Foundation of Northern Illinois and their In Youth We Trust grant board for choosing me as a recipient this year. I look forward to the Picnic, which will in June or July. I'm also thankful to CASA for letting me host this event on their behalf, and to my team members who will be helping to organize this event.