Eligibility Criteria
Applicant must:
- Currently reside in Boone, Ogle, Stephenson, or Winnebago County.
- Intend to pursue a career in nursing.
- Demonstrate financial need.
Particulars
Preference may be given to students who are entering their first year of nursing school.
Written Prompt
Each CFNIL scholarship is created with a specific purpose in mind. As you complete the application, the system automatically matches you with every scholarship for which you are eligible and will present you with a specific written prompt for each. You're encouraged to craft a unique response to each prompt to show the reviewers why you're the best candidate for that scholarship.
Scholarship Background and Intent
Jan was born October 30, 1954 in Rockford, IL, the daughter of the late Paul J. and LaVonne M. (Michelson) Cascio. Jan graduated in 1972 from Jefferson High School in Rockford. She met her loving husband, Steve, that summer and their love blossomed like the first yellow flower of spring. They were married on July 6, 1974.
She earned her RN degree from Kishwaukee College in Malta, IL. Jan worked at Swedish American Hospital 10 East and then in the Operating Room for 20 years. She then moved to Rockford Ambulatory Surgery Center in 1995 and remained there for 18 years until her retirement in 2013. 
The center piece of Jan's life was her faith. She lived the verse "Love your neighbor as yourself." through her work at Carpenter's Place in Rockford, St. Mark's outreach committee, and her two weeks on Mercy Ships in Africa. She cherished every opportunity to serve others, but none as much as her time with Mercy Ships; where she was able to combine her love of helping people, her nursing career, and her faith as she served communities in West Africa. 
Jan took pride, pleasure, and comfort in exercise, her family and the outdoors. She was an avid runner and swimmer, leading her to compete in many 5K races, a half marathon, and the Door Country Triathlon. She thoroughly enjoyed her "Fit for Life" class at Peak Sports Club in Rockford. She had a love for nature and could regularly be found sailing, watching and feeding birds, or camping with family and friends.
Here are some things Jan's coworkers had to say about her.
From an anesthesiologist:
I reflect back to the old days at Swedish American when I worked so closely with Jan. She was by far one of the best nurses that I ever had the opportunity to work with. She was smart, organized, witty, took no s**t from anyone and was always a patient advocate insuring the patient came first.
From an orderly:
She was so great to work with, and always made an effort at the end of the work day to thank me for a nice day. That was over 25 years ago and I never forgot that.
From an orthopedic surgeon:
Fine nurse, wonderful coworker, and a pro in the OR.
From an RN:
I think of Jan often. I think of "what would Jan do?" at work a lot.
---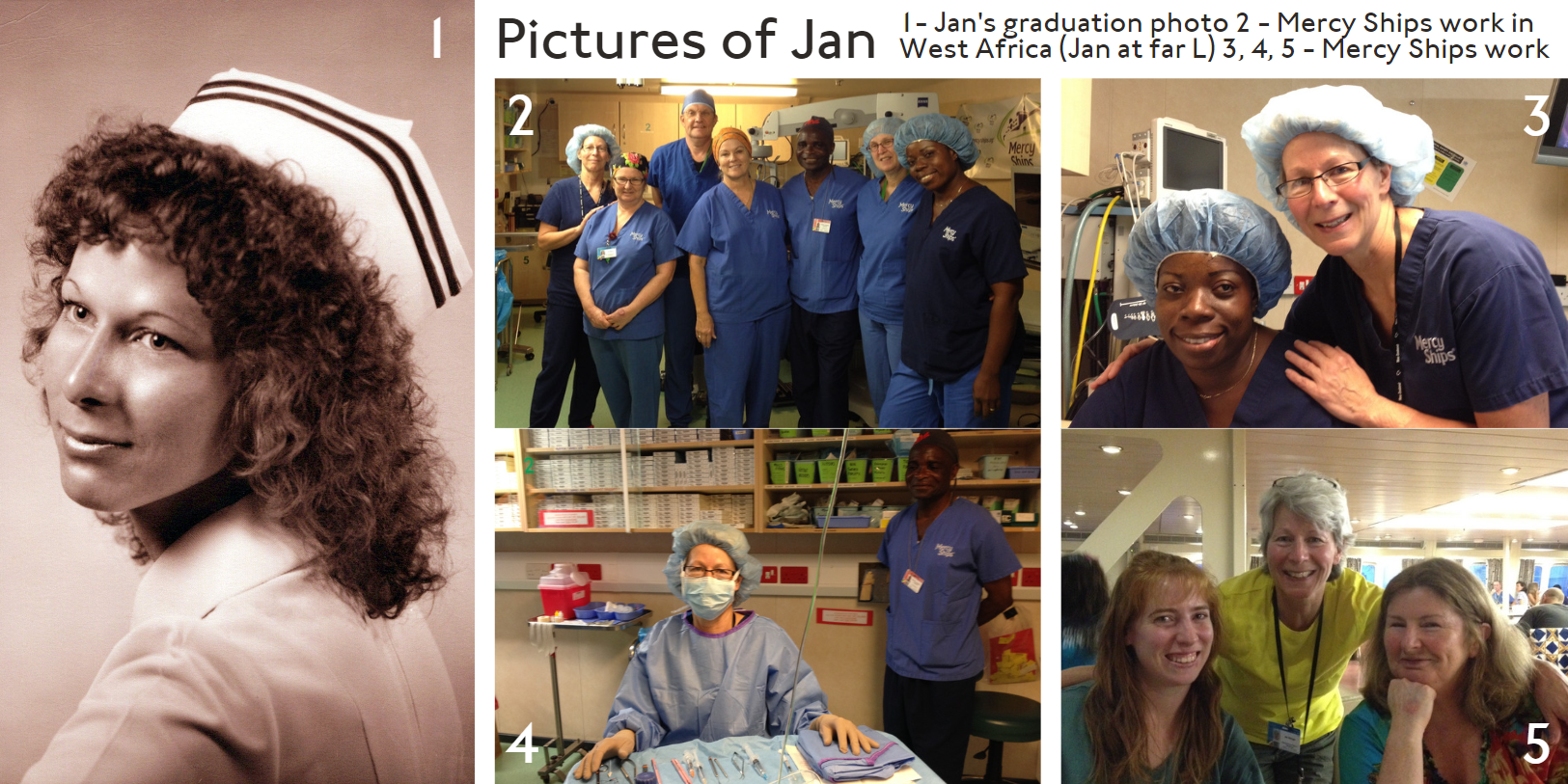 Would you like to support the Jan Stringer Scholarship? You can make a donation directly to this fund, to help grow its impact and ability to provide educational resources for students in our community — forever!