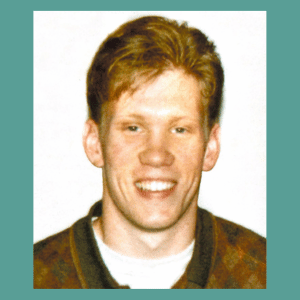 Jason "Jay" Ordway Memorial Scholarship
Supporting students pursuing a career in medical sciences.
Eligibility Criteria
Applicant must:
- Currently reside in Winnebago County.
- Intend to pursue a degree and career in medical sciences.
Written Prompt
Each CFNIL scholarship is created with a specific purpose in mind. As you complete the application, the system automatically matches you with every scholarship for which you are eligible and will present you with a specific written prompt for each. You're encouraged to craft a unique response to each prompt to show the reviewers why you're the best candidate for that scholarship.
Scholarship Background and Intent
This scholarship is offered in loving memory of Jason Ordway, who died of colon cancer at the age of 23 years. In this short time, he touched many lives. He had a great sense of humor, strong athletic interests, and the ability to relate to and understand people. To Jason, his friends, and family were most important.
Jason graduated from Guilford High School in 1991. He attended Illinois State University, graduating with a degree in Biological Sciences. 
Below is an excerpt from Jay's graduate admission essay for the Physicians Assistant Program at the University of Iowa -
My name is Jason Ordway and I would like to tell you all a little bit about myself. I was born and raised in the booming metropolis of Rockford, Il. I was the youngest of three children, a bully of a brother and a bossy sister kept me in line throughout most of my youth. My parents were both college graduates and were deeply devoted to bringing me up with Christian Values. My mother had been raised on a farm in Iowa, which means that I was given plenty of discipline throughout my childhood and I still receive some to this day. My mom came from a family of four sisters and two brothers who all seemed to have a dozen kids of their own.

The family reunions were often and hectic, but it was during these times I began to really develop empathy towards people. My goals in life were formed with the idea to become someone who could truly help people.

My education in my early years was not what a person would call outstanding. I was more interested in hitting a homerun for my coach than doing homework for my teacher. I would say that the turning point in my early career was having my parents introduce me to fiction. I started out with Stephen King and eventually got hooked on Robin Cooks' medical thrillers. I started to really become interested reading about medicine. Some of my other hobbies included basketball, golf, tennis, baseball and weight lifting. I was gifted to where I could do all sports well, but none of them great, so there was no real hope for a athletic scholarship. While I was attending Illinois State University I applied myself in the areas of chemistry and biology. Courses such as Human Anatomy, Microbiology, Physiology, and Biochemistry, gave me insight into the vast complexities found in the human body. These courses worked toward improving my lab skills and my ability to do research on a majority of health related subjects. I also incorporated into my education other classes such as English, speech, and psychology, which helped me develop skills necessary to work with people. At Illinois State University I received a well rounded education; in those four years I learned the importance of setting goals and using discipline and dedication to achieve them.

After learning the importance of getting experience in the heath field, I eventually got a job as a monitor technician. I was then able to recognize several types of heart arrythmias and I learned to work as part of a team, dedicated to providing intensive care for the seriously ill patients. I then got a chance to work in another area of the hospital. My job as a pharmacy technician provided me with a penetrating look into the field of pharmacology. While working along with a pharmacist, I learned to recognize drug therapies, drug allergies, and several drug interactions. After interning for four months in pharmacy, I was promoted to a new job in the Occupational Heath Services department. There I was assisting a doctor and a couple of nurses in doing a series of health tests for new employees. Testing patients vision and hearing abilities, looking at the respiratory and pulmonary status of these employees, and recording their vital signs.

This kind of work gave me direct patient contact and a chance to better understand the physicians role in heath care.

Finally, what was next? I had given myself an undergraduate education that was mainstream with the didactic style of learning being taught in PA programs across the country. I was now ready for the next level, the graduate level. The next question was were to receive my training that would prepare me to be not only a competent PA, but a valuable PA. A possible leader in defining the PA role in the the 21st century. This is why I chose the University of Iowa, because of its dedication to excellence and its commitment to quality care. By watching my brother and sister, who both graduated from Iowa, receive a quality of education that enabled them to lead very successful lives. I have also had close relatives in the University hospital and I know what an excellent staff works there and the commitment they must have to train others.
---
Would you like to support the Jason "Jay" Ordway Memorial Scholarship? You can make a donation directly to this fund, to help grow its impact and ability to provide educational resources for students in our community — forever!
Contact the Community Foundation of Northern Illinois for more information.