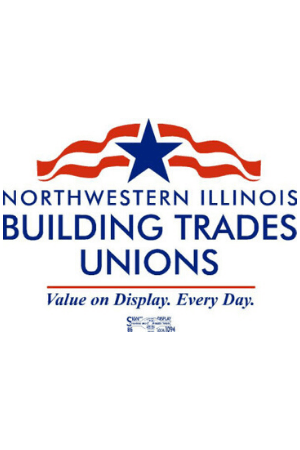 Northwestern Illinois Building Trades Blais Family Scholarship
Supporting students who value the trades and union labor movement.
Eligibility Criteria
Applicants must:
- Be a graduating high school senior.
- Be the child or step-child of a member of the Northwestern Building Trades and Construction Council.
Particulars
Academic performance will given high priority in the selection process.
Participation in extracurricular and community service activities will also be considered.
Written Prompt
Each CFNIL scholarship is created with a specific purpose in mind. As you complete the application, the system automatically matches you with every scholarship for which you are eligible and will present you with a specific written prompt for each. You're encouraged to craft a unique response to each prompt to show the reviewers why you're the best candidate for that scholarship.
Scholarship Background and Intent
The Northwest Illinois Union Building Trades Blais Family Scholarship Fund was created by a donation from Robert J. Blais and his son, Nicholas M. Blais, to acknowledge and honor the Blais Family's commitment to the union labor movement and the importance of education. The Blais Family's involvement with labor began when H. Lewis Blais joined Carpenter's Local Union 792 in 1967. Lew served as recording secretary and eventually was elected Business Manager. Lew spent many years as Business Manager of Local 792, and eventually of Local 790. He also lobbied the Illinois State Legislature on behalf of the labor movement.

Lew was Business Manager during the time that the Byron Nuclear Power Plant was being built. During this time, millwrights were a part of Local 792 and during the huge demand of skilled tradesmen, Lew was able to persuade his brother, Gene Blais, to leave a lucrative job and join the Millwrights to help fill the need for skilled tradesmen. Gene's wife Carol sacrificed time with her husband due to overtime and demand for his special skills across the world. Lew's youngest sister and former Labor Day Queen Sharon Posse is a member of the Flight Attendant's Union.

Lew and his wife Catherine "Kitty" Blais passed on their values of hard work and education to their five children: Stephen, Mary, Teresa, Michael, and Robert, with several of them following him into union membership and activism. Stephen is a retired member of The International Brotherhood of Electrical Workers. Steve's daughter, Christi, is a union laborer. Teresa was a past member of AFSCME and active in several attempts to organize her former employer. Her son, Anthony Street, is a member of Carpenter's Local 792. Michael was working as a laborer when he was tragically killed in a car accident in 1978. Robert, before being forced to retire due to injuries sustained in an on-the-job accident, was an active member of Ironworkers Local 498. Bob holds a Bachelor's Degree but felt the calling like the rest of the family to become a union tradesman. From the time Bob reached Journeyman status, he served continually as an officer and instructor and became Local 498's first certified apprentice instructor. Lew's brother Gene and his wife Carol also passed on these values to their son Eugene Jr., who is a lineman for ComEd and a member of the International Brotherhood of Electrical Workers. His wife Pebbles spends many a sleepless night worrying about her husband out in terrible weather working to restore power.

Since the Union Labor Movement has given so much to the Blais Family, Bob and Nick felt it important to give back and create this scholarship fund to help offset the costs of college for one child of a member of one of the Local Unions represented in the Northwest Illinois Building Trades.
---
Would you like to support the Northwestern Illinois Building Trades Blais Family Scholarship? You can make a donation directly to this fund, to help grow its impact and ability to provide educational resources for students in our community — forever!