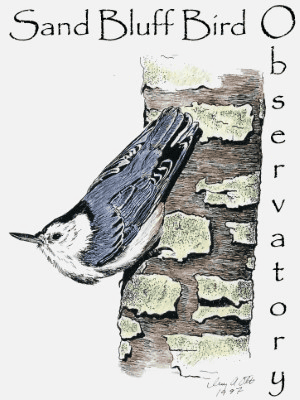 Sand Bluff Bird Observatory Environmental Studies Scholarship
Supporting students pursuing careers related to the mission of Sand Bluff Bird Observatory.
Eligibility Criteria
Applicant must:
- Be a graduating high school senior or current college student.
- Currently reside in Boone, Ogle, Stephenson, Winnebago, or Rock County (WI).
- Intend to pursue a career in environmental or conservation studies.
Particulars
For the purposes of this scholarship, environmental and conservation studies may be defined as: Environmental Science, Conservation Science, Ecology, Biology, Biodiversity, Earth Science, Environmental Policy, Natural Sciences, Environmental Chemistry, Atmospheric Science, Ornithology, or Environmental Engineering.
Written Prompt
Each CFNIL scholarship is created with a specific purpose in mind. As you complete the application, the system automatically matches you with every scholarship for which you are eligible and will present you with a specific written prompt for each. You're encouraged to craft a unique response to each prompt to show the reviewers why you're the best candidate for that scholarship.
Sand Bluff Bird Observatory was established in March 1967 by Lee G. Johnson to learn more about birds migrating through Northern Illinois. Located within Colored Sands Forest Preserve in Northwest Winnebago County, Illinois, Sand Bluff Bird Observatory is one of the largest small-bird banding operations in the country that is open to the public! Their primary mission is the research and study of avian species through banding and data collection, primarily in the Rock River Valley area. The data is used to increase the body of scientific knowledge and awareness to facilitate the continued protection of avian species in North America. A secondary mission is the education of the public through programming.
Three educational scholarships have been established to honor those who have been critical to the continued mission of Sand Bluff Bird Observatory.
Sand Bluff Bird Observatory Dave Seal Volunteers Scholarship
Sand Bluff Bird Observatory Lee and Lynda Johnson Founders Scholarship
Sand Bluff was created to study population trends in migrant birds, termed neo-trops, although they also trap resident species as well.
In a typical year, 4-6,000 warblers, vireos, orioles, sparrows, thrushes, and finches are banded. The station is operated entirely by volunteers who band, serve as guides for visitors, and present educational programs for various groups. 
Although Sand Bluff is primarily a research facility, visitors are always welcome to come watch their operation and share in the learning process. Whether it's a House Wren or a Red-tailed-Hawk, the experience of seeing, in hand, the birds that share our planet will long stay in the memory.
Would you like to support the Sand Bluff Bird Observatory Environmental Studies Scholarship? You can make a donation directly to this fund, to help grow its impact and ability to provide educational resources for students in our community — forever!