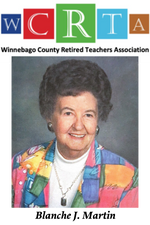 WCRTA – Blanche J. Martin Scholarship
Supporting students who plan to pursue a career as an elementary school teacher.
Eligibility Criteria
Applicant must:
- Be a current college or graduate student.
- Currently reside in Winnebago County or have attended a high school in Winnebago County.
- Intend to pursue a degree in elementary education.
Written Prompt
Each CFNIL scholarship is created with a specific purpose in mind. As you complete the application, the system automatically matches you with every scholarship for which you are eligible and will present you with a specific written prompt for each. You're encouraged to craft a unique response to each prompt to show the reviewers why you're the best candidate for that scholarship.
Scholarship Background and Intent
An outstanding educator all of her life, Blanche J. Martin was a principal, a director of education, an assistant superintendent for elementary education, and a regional superintendent of schools in Winnebago and Boone counties.
She received many awards beginning when she was a student teacher at Lincoln College in 1939 and continuing through her years as an assistant superintendent for the Rockford Public Schools and as the Regional Superintendent in our two adjacent counties. Ms. Martin died in 2007 leaving to the Winnebago County Retired Teachers Association (WCRTA) an endowment to be used for scholarships. Her wish was that the scholarships be awarded to recipients who will become teachers in elementary schools. WCRTA faithfully honored that wish, awarding scholarships to future teachers every year.
In 2022, WCRTA reached out to CFNIL to established a permanent scholarship endowment with the same criteria and purpose. This foresight will ensure that the legacy of Blanche Martin and the spirit of the WCRTA membership will be carried forward through scholarships for future teachers, in perpetuity.
Blanche J. Martin Obituary:
Blanche J. Martin passed away Monday, April 23, 2007, at the age of 87. Born on March 10, 1920 in Logan County; the daughter of Louis Martin and Ida E. Raber. Blanche received an Associate of Arts Degree from Lincoln Junior College in 1939, a Bachelors Degree in 1960 and a Masters degree from Illinois State University in 1964. She did further studies at Northern Illinois University. She taught school in Lincoln, IL and in Springfield, IL and was the Elementary Principal.
During her time in Rockford schools she was the Principal, Director of Elementary Education, Assistant Superintendent for Elementary Education and was elected Regional Superintendent of Schools in Winnebago and Boone Counties. Blanche held many offices in professional organizations such as, State President of IASCD, and past President of Zeta Chapter of Delta Kappa Gamma, President of Northern Illinois Cooperative in Education, Board member for Winnebago County Retired Teachers Association and member of the NEA and IRTA. She served two terms on State Teachers Certification Board and two terms as Member-at-Large on ASCD Board.
Blanche received many honors for her dedication and hard work. She was named Conservationist of the Year by the State Department of Education in 1993, Named Outstanding Educator by Northern Illinois Cooperative in Education in 1984, McKinley Award for outstanding performance as student teacher while attending Lincoln College in 1939 and appointed by Hon. John B. Anderson to be his delegate to the White House Conference on Education. Blanche loved playing golf, bowling, walking and biking. She was an enthusiastic sports fan as well. She loved singing in a Classic Chorale and Magic Memories (a senior citizens group that loves to sing the good old songs), to volunteer at Provena St. Anne Center, and was a member of Lincoln Christian Church.
---
Would you like to support the WCRTA – Blanche J. Martin Scholarship? You can make a donation directly to this fund, to help grow its impact and ability to provide educational resources for students in our community — forever!