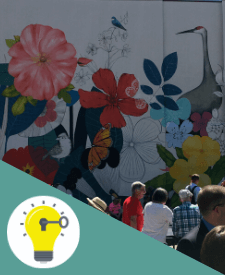 Community Opportunities
The Community Opportunities Grant Program was created by CFNIL's Board of Trustees to provide the Foundation with flexible funding to respond to emerging opportunities and unforeseen crises. Typically $30,000 is allocated per fiscal year for this program and funds are available until depleted. Because the funds available are limited, the criteria are very specific. Organizations considering applying should first contact Program Director James Patterson at jpatterson@cfnil.org or 779-210-8206 to discuss their proposal. 
Program Criteria:
Address an emergency that immediately impacts an organization's ability to serve their clients. Funding, either alone or with other secured funds, must solve the crisis. Funds are not intended to be used for standard operating expenses.

An unforeseen, time-sensitive opportunity that will benefit a broad constituency beyond the applying organization and its clients.
An opportunity to leverage matching grant dollars for a charitable activity.
Program Specifications:
Applicants may request up to $5,000 in each application

Organizations can receive one Community Opportunities grant per year and may not submit an application in two consecutive years
All applications are subject to CFNIL's Community Grant Eligibility and Requirements guidelines
Organizations interested in applying for a Community Opportunities grant must contact Program Director James Patterson to discuss the proposal.