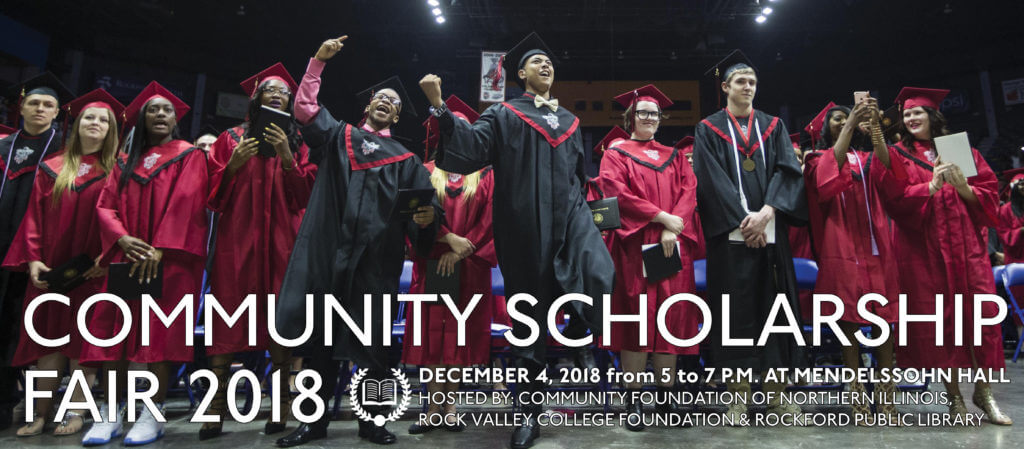 2018 Community Scholarship Fair
October 5, 2018
The Community Scholarship Fair will be held on Tuesday, December 4, 2018 from 5 to 7 p.m. at Mendelssohn Hall (406 N. Main Street in Rockford).
The Community Scholarship Fair is hosted by the Community Foundation of Northern Illinois (CFNIL), Rock Valley College Foundation (RVC), and Rockford Public Library (RPL).
At the free event, visitors can learn about more than $500,000 in scholarships and financial aid offered by local organizations for students in Northern Illinois. 
• RVC and the Illinois Student Assistance Commission will walk students through FAFSA, the financial aid process, and applying for scholarships/financial assistance from Rock Valley College Foundation.
• CFNIL and RPL will explore the foundation's scholarship opportunities and explain how to apply for them. Students will also learn about other local scholarship opportunities through RPL's scholarship database.
• More than 20 other local scholarship providers will be present to discuss their scholarship opportunities and how local students can access them.
Both seminars will be offered at 5:15 and 6:15 p.m.
Information on scholarships is available for students of all ages and citizenship status.
No registration is required and this is a free event.
If you can't make the Community Scholarship Fair, please visit:
• CFNIL's scholarship page: http://cfnil.org/scholarships/
• RVC's scholarship page: https://www.rockvalleycollege.edu/Foundation/scholarships
• RPL's scholarship database: https://www.rockfordpubliclibrary.org/young-adult-zone/scholarship-search