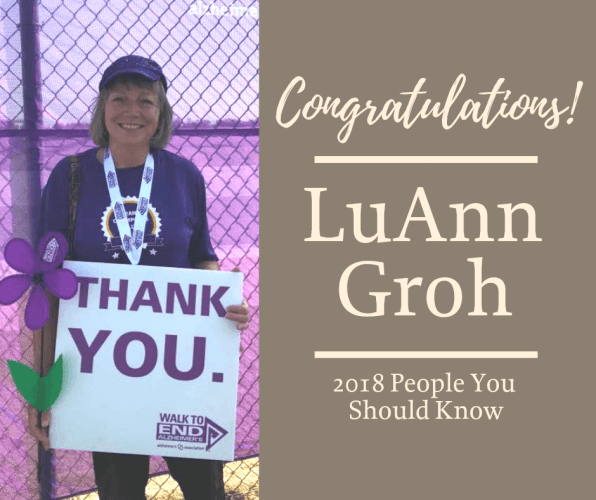 CFNIL employee LuAnn Groh named one of 2018's People You Should Know
October 25, 2017
We are pleased to announce that our colleague, LuAnn Groh, has been selected as one of twenty "People You Should Know" for 2018 by the Rockford Chamber of Commerce! The "People You Should Know" award recognizes people who are actively involved in moving the community forward, standing out in the crowd, and taking time to mentor others. They are accomplished professionals who have mastered the pathway to success, yet still have the balance and commitment to effectively give back to their industry, colleagues and community.
LuAnn's tireless work as a volunteer and community advocate for the Alzheimer's Association prompted the nomination. She has personally raised thousands of dollars and devoted hundreds of hours to the cause, including her participation in the yearly Walk to End Alzheimer's and her role as chair of the Unforgettable Art: Annual Affair for Alzheimer's fundraiser.
We echo the sentiment of the nominator who stated: "When faced with a challenge, she makes a plan and goes to work. She has confidence that the challenge will be met and is the quiet push from behind that ensures it is."
Please join us in congratulating LuAnn for this well-deserved honor!