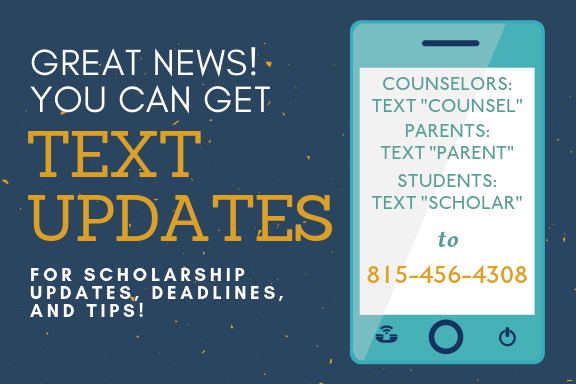 Stay informed with CFNIL Scholarship Text Updates!
October 30, 2019
CFNIL is pleased to announce a new way for counselors, parents, and students to stay informed with updates, reminders, and tips during the CFNIL Scholarship Cycle — text updates! In addition to the regular email communication and social media posts providing details and updates, interested applicants and family members and support staff that may assist students during the scholarship process can get reminders sent right to their phone.
Community Investment Director Sarah Lambert: "We recognize that students prefer to communicate by text. In many cases this is true for parents and counselors, too! We anticipate that adding text messaging to our existing package of communication tools will help improve application completion rates and allow us to connect more quickly with students who have questions or issues with their application."
Want to get Scholarship updates by text? It's Easy!
Counselors: Text "Counsel" to 815-456-4308
Parents: Text "Parent" to 815-456-4308
Students: Text "Scholar" to 815-456-4308
Learn more about CFNIL's Scholarship Program. The 2018-2019 Scholarship Application opens December 1, 2018.