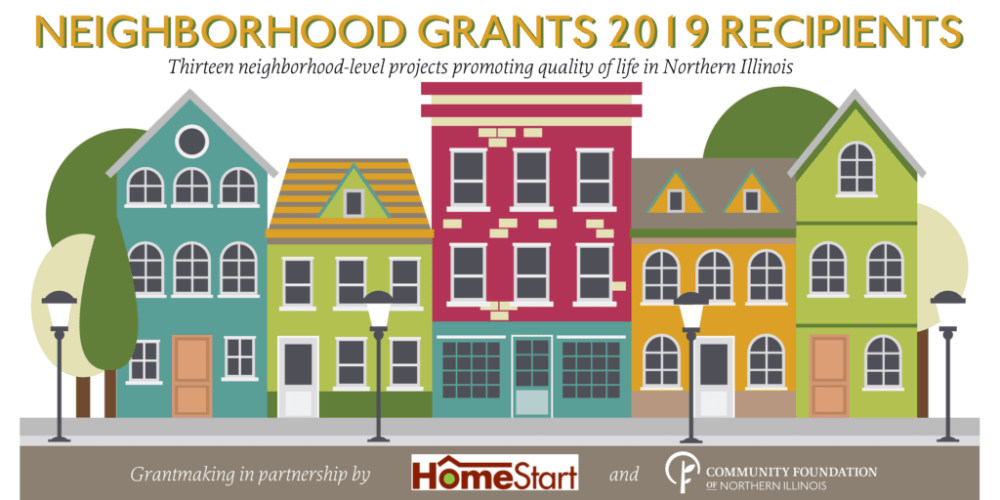 Community Foundation and HomeStart announce $25,000 in grants for neighborhood projects
May 22, 2019
The Community Foundation of Northern Illinois (CFNIL) and NW HomeStart are proud to announce the recipients of the 2019 Neighborhood Grants Program. The grants will be awarded to 13 groups and organizations (listed below) working to improve the quality of life in their communities at the neighborhood level. The grants are worth $24,998.69. CFNIL and HomeStart will host a reception for recipients Wednesday, May 22nd at HomeStart's Rockford office (803 N. Church Street) from 4 to 5 p.m. Members of the media are encouraged to attend.   
CFNIL has operated a neighborhood grants program since 1995, distributing more than $719,000 to build better neighborhoods in Rockford. This is the fourth year the two organizations are collaborating to expand the availability of funds to neighborhood-based groups across the four-county region.
Recipients of the Neighborhood Grants Program must be nonprofits or neighborhood-based organizations operating in Boone, Ogle, Stephenson or Winnebago County. The Neighborhood Grants Program will fund neighborhood projects, including but not limited to beautification, crime prevention, surveys, clean ups, newsletters, organizing, reforestation, and resident-focused education. The maximum award from the Neighborhood Grants Program is $2,500.
Brief descriptions of each project are listed below. A report with more complete descriptions may be viewed HERE.
2019 Neighborhood Grants Recipients
African-American Resource Center at Booker | Rockford – 61102
$2,158.69 for "Raising the 'Roots'"
To beautify the Booker Washington Community Center Campus.
Capron Lions Club | Capron – 61012
$2,500 for "Parking Resurface and Upgrades"
To improve parking lot safety and facility handicap accessibility.
Circles of Learning | ­­Rockford – 61109
$2,250 for "Parking Lot Safety
To improve safety for children and families in the facility's parking areas.
City of Belvidere | Belvidere – 61008
$2,500 for "General Mills Park Beautification"
To landscape and beautify the new General Mills Park.
Collier Gardens Resident Council | Rockford – 61101
$1,050 for "Apartment Complex Community Garden"
To establish a community garden to provide healthy food, increase resident engagement, and add natural beauty.
Greater Freeport Partnership | Freeport – 61032
$2,500 for "Downtown Street Furniture Refresh"
To enhance the appearance of downtown Freeport and encourage continued revitalization.
Ken-Rock Community Center | Rockford – 61109
$1,200 for "Community Ground Beautification"
To improve the conditions and appearance of the grounds of the Ken-Rock Community Center campus.
North Highland Neighborhood Association | Rockford – 61107
$1,800 for "Community Garden"
To establish a community garden and encourage neighborhood resident participation.
Park-er-Woods Community Association | Rockford – 61102
$2,500 for "Westside Pride"
To replace a neighborhood identification sign and increase identification and pride for the neighborhood.
Rockford Area Habitat for Humanity | Rockford – 61101
$1,000 for "Beverly Park Garage Sale"
To to organize and host a neighborhood-wide garage sale.
Winnebago Community Historical Society | Winnebago – 61088
$2,500 for "Veterans Memorial Park"
To rejuvenate an existing park and entice more residents to enjoy historic downtown Winnebago.
Youth Services Network | Rockford – 61102
$1,040 for "Parenthood Promise Beautification Project"
To continue an ongoing community engagement and neighborhood beautification effort in the Ellis Heights Neighborhood.
Zion Outreach | Rockford – 61104
$2,000 for "Buddy House and Blackhawk Garden and Farm Support"
To coordinate and host neighborhood events at Zion's Buddy House and at Blackhawk Courts.
---