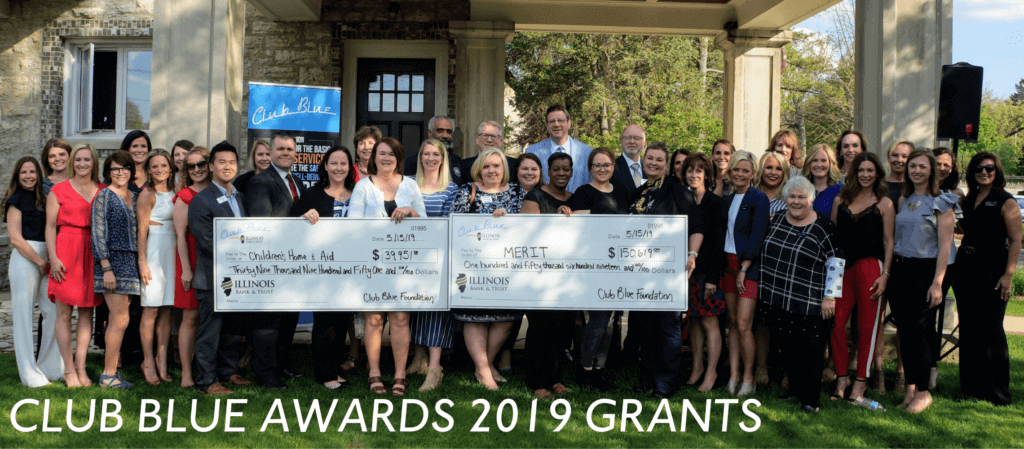 Club Blue Presents Checks to 2019 Grant Recipients
May 16, 2019
On Wednesday evening, May 15, the Club Blue 2019 Committee hosted a check presentation and reception on the grounds of the Community Foundation of Northern Illinois. The Committee, along with presenting sponsor Illinois Bank & Trust, presented checks totaling $190,000 to representatives from Children's Home & Aid and MERIT, the Medical Evaluation Response Initiative Team.
These 501(c)(3) organizations were selected by an independent, undisclosed selection committee to receive grants funded by monies raised at the 2019 Club Blue event for projects that carry out the Club Blue mission of providing for the basic goods and services that promote the safety, health and well-being of children in need in our community.
Monies raised by Club Blue 2019 will allow Children's Home & Aid to fund an additional full time salary for their Doula Program.  This program serves at-risk pregnant women during pregnancy, birth and through the post-partem period.  It enables healthy pregnancies for both mothers and babies, promotes smooth deliveries, supports mother/baby bonding and teaches effective parenting skills.  This additional employee will allow for 25 additional mothers to be mentored through their pregnancy and births, including home visits and parent educational services.  The Doula Program is instrumental in decreasing maternal stress, addressing postpartum depression, and preventing future crisis by developing strong parent-child attachments.
The MERIT grant will allow the program to support the addition of a Pediatric Sexual Assault Nurse Examiner (SANE-P®) to perform specialized exams on children who are suspected of abuse and neglect.  Additionally, funds raised by Club Blue 2018 will help MERIT develop and implement a referral/communication protocol and system and become a designated transfer facility for pediatric acute sexual assault victims in the Rockford region. This will eliminate unnecessary and unspecialized exams while providing the best care, treatment, evidence collection and education in a child-friendly environment. Granted funds will also allow MERIT to effectively navigate a child through the system, from initial exam to treatment with a full-time case coordinator. 
Club Blue began in 2012 by ten women who gathered together and were shocked to learn about the magnitude of child abuse in the Rockford community.  The women decided to take action and eighty-two days later the first Club Blue event was held. 
The Club Blue committee is now 28 women strong and in 8 years has raised over $2,000,000 to support children in need in our community. Club Blue is collaborating with the Community Foundation of Northern Illinois in order to grant funds to area nonprofits that serve children while building a legacy by creating an endowment that will support their mission in perpetuity. Learn more about the Club Blue Grants at CFNIL's website.
For more information regarding Club Blue and the charities they serve please visit www.clubbluerockford.org