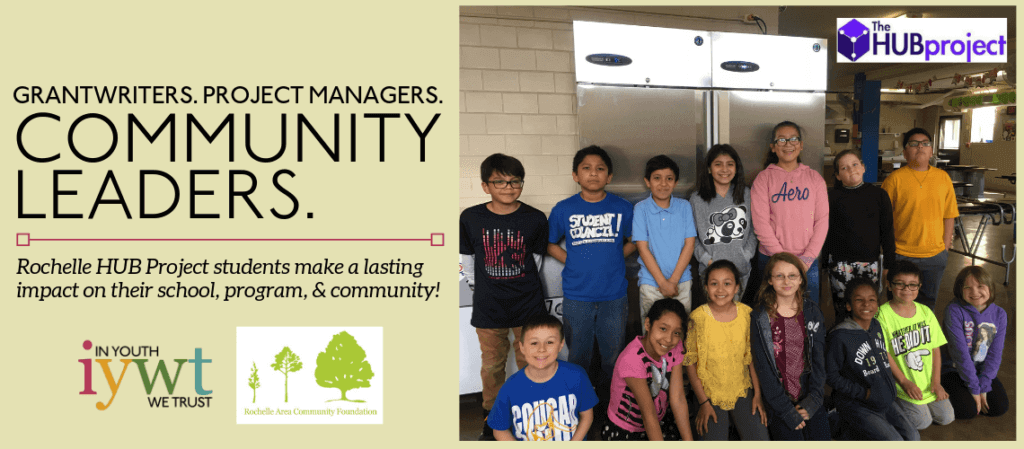 Rochelle HUB Project Elementary Students Make Lasting Impact
December 18, 2018
Students from Central Elementary School in Rochelle are proving that no matter your age, you can make a difference in your community! Faced with the challenge of not having a way to store fresh food for meals at their afterschool program, these enterprising young people researched possible solutions and decided to write grant proposals to the Rochelle Area Community Foundation as well as CFNIL's In Youth We Trust grant program. This month, Illinois Quality Afterschool Quarterly reported on the excellent work undertaken by these students and the project management and problem solving skills they continue to develop, even after the fridge has been installed! CFNIL is so pleased to have been able to partner with Rochelle Area Community Foundation as funders for this project, and we couldn't be happier to see the good word about these students get shared across the state! Congratulations to HUB Project director Amy Hayden and all of these exceptional students.
Here is the article from Illinois Quality Afterschool Quarterly:
News from the Field: Students at Rochelle HUB Learn About Grant Writing
In the Winter 2018-19 issue of Illinois Quality Afterschool Quarterly
Thanks to grants from the Community Foundation of Northern Illinois (CFNIL) and the Rochelle Area Community Foundation, students at the Central School site of Rochelle Helping Us Build (HUB) 21st CCLC will now receive healthy snacks after school. Because the students helped research and write the grant applications, they have also developed new skills and made a long-term contribution to their 21st CCLC program.
The project came about because Central School had no refrigerators on site, which limited snack offerings to nonperishable food like goldfish crackers and pretzels. Because many of the students qualify for free and reduced-price lunch and don't arrive home before evening, the program leadership wanted to provide a more substantive snack for the students.
The Rochelle HUB team sought support from CFNIL because the 21st CCLC program had an established relationship with the foundation, and they thought their program's needs were a good match with CFNIL's In Youth We Trust grant program… CONTINUE READING >>