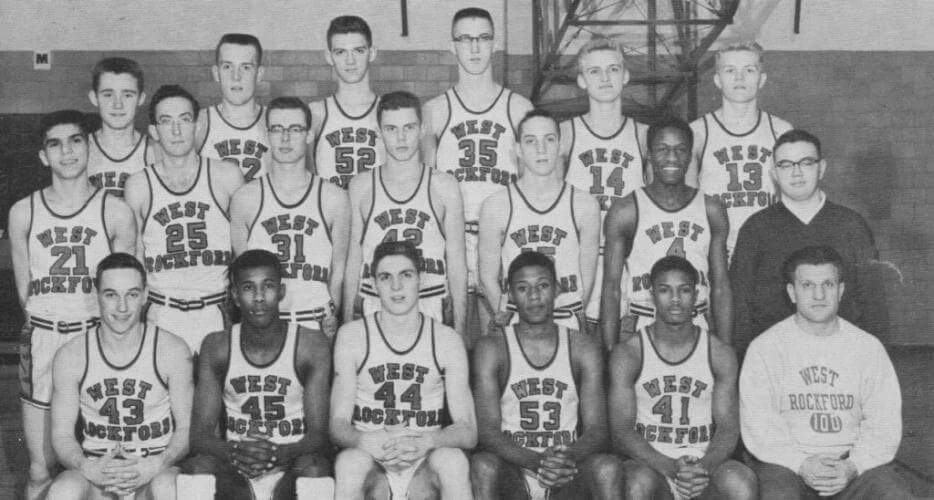 Warriors Forever: John Gile Book Signing
In 1955 and 1956, Rockford's West High School Warriors won back-to-back state basketball championships, earning the title "the comeback kids" and blazing a trail for ethnic and racial unity in the process. The people of Rockford gave them a hero's welcome home from the tournaments in Champaign, with more than 75,000 greeting them on their return in 1955 and more than 125,000 greeting them in 1956 after their second consecutive title.
Ten-year-old John Gile was there. Drawing on his long career as a journalist and author, Gile has written a book about the people and the times and their remarkable lifelong achievements. In "Warriors Forever," Gile tells the story of what Chicago area sportswriters described as the most fabulous two-season success story in the history of Illinois prep basketball, but also distills for readers what makes champions, not just on the basketball court, but in all aspects of life.
At 1:00 p.m. on Saturday, October 14, 2017, in the Barnes & Noble at CherryVale Mall (7200 Harrison Avenue in Rockford), Warrior champions Nolden Gentry, Rex Parker, Bobby Washington, Rod Coffman, David McClelland, Jay Heath, and cheerleader Patti Terranova join Gile for a "Warriors Forever" book signing and gathering to share the story and answer questions. A portion of book sales will support CFNIL's Blanche Martin Mini Grant Program, but book buyers need to either present this certificate at the time of purchase or tell the cashier that part of the book's proceeds should be directed toward the Blanche Martin Mini Grant.
The Blanche Martin Mini Grant Program at the Community Foundation of Northern Illinois aids certified teachers in early childhood through grade 12 with grants for special classroom activities, educational materials, workshops, and projects that improve and enhance a classroom's academic program, encourage creativity in students, involve a broad range of students, and have the potential for being replicated.
The Blanche Martin fund was created by the Zeta Chapter of Delta Kappa Gamma Society International, a group of key women educators from Boone and Winnebago Counties, to honor her lifetime service as a Principal, Director of Elementary Education, Assistant Superintendent for Elementary Education, and Regional Superintendent of Schools in Winnebago and Boone Counties. She served two terms on the State Teacher Certification Board, two terms as Member-at-Large on the American Society of Curriculum Development Board, and was a White House Conference on Education delegate. Blanche was a long-time neighbor of Gile, and they shared a love of learning and passion for education.
Speaking of the Blanche Martin Mini Grant, CFNIL is accepting applications for the program until 5 p.m. on November 6, 2017. Applicants must submit applications through CFNIL's Web Portal. Please share this opportunity with the educators in your life.
(Photo of the 1956 West High School basketball team. Photo provided by John Gile.)