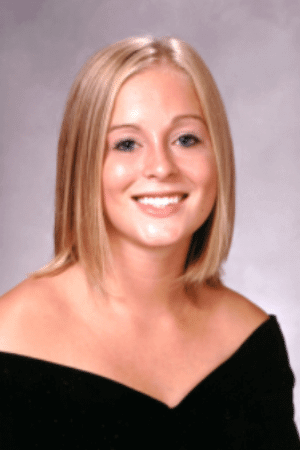 Amber Huber Memorial Scholarship
To provide educational resources in recognition of a graduating senior at Byron High School who has made a positive contribution to the high school track and/or cheerleading program.
Essay
Taking into consideration the background and criteria of this scholarship, why are you the best candidate to receive it? You may want to discuss your past academic or personal achievements, leadership skills, community and school involvement, or obstacles you've overcome.
Criteria
Applicant must:
- Be a graduating senior female from Byron High School;
- Have participated in the Byron High School girls track program and/or Byron High School cheerleading program for at least three seasons including her senior year; and
- Have a minimum GPA of 2.0/4.0.
The scholarship is renewable for four years as long as criteria are met.
Biography
Amber attended Byron schools and graduated from Byron High School in 2001. While in school, Amber was involved in cheerleading and track. She was on the high school cheerleading squad and participated on a competitive cheerleading squad that competed on a National level. Her hard work and competitive drive allowed her to qualify for State in the long jump, a goal she had set during her junior year at Byron. Amber continued her education at the University of Iowa. She joined the Gamma Phi Beta sorority, was very active in the sorority and made many friends. Amber was also a cheerleader for the Iowa Hawkeyes and worked for the University's sports marketing department. One of the highlights for her was working with Tom Arnold when "The Best Damned Sport Show Period" came to an Iowa football game.
In March of 2003 Amber was diagnosed with an atypical T-cell Lymphoma. She went through intensive chemotherapy at the University of Iowa Medical Center. While there she won the hearts of the staff with her positive attitude. Amber passed away on September 4th, 2003.
---
Would you like to support the Amber Huber Memorial Scholarship? You can make a donation directly to this fund, to help grow its impact and ability to provide educational resources for students in our community — forever!