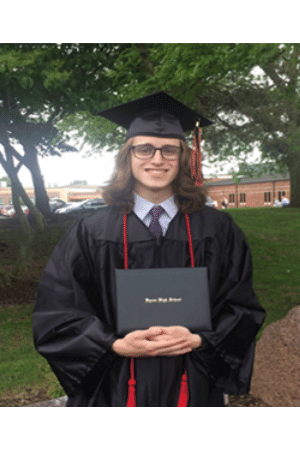 Daniel Edwards Memorial Scholarship
To provide educational resources to students from Ogle County, Illinois, pursuing a career in the skilled trades. 
Essay
Taking into consideration the background and criteria of this scholarship, why are you the best candidate to receive it?
Criteria
Applicant must:
- Be a resident of Ogle County, Illinois;
- Exhibit financial need; and
- Be pursuing a career in a skilled trade that typically does not require a bachelor's degree. Examples of careers in skilled trades include Automotive Repair, Diesel Mechanic, Plumbing, Electrical, Carpentry, or Welding.
Biography
Daniel Joseph Edwards 1998 - 2018
This scholarship was established in memory of Daniel Edwards. From a young age he enjoyed working with his hands, disassembling and reassembling his long boards to find the perfect skateboarding ride. His passion for adventure and curiosity for how things work was always at the center of his activities. 
Like all of his siblings, Daniel was homeschooled by his parents through middle school. As time went on his passion for auto mechanics became apparent. Following his graduation from Byron High School in 2017, he attended classes at Kishwaukee Community College, working toward his General Auto Mechanic certification.
Daniel was a friend to many, always there to listen and support when needed. He was a selfless person, with a good heart and a generous disposition. Daniel lost his battle with depression and passed away on September 16, 2018. He never got to fulfill his dreams; therefore, his family would like to honor him by awarding this scholarship to an individual in pursuit of theirs.
---
Would you like to support the Daniel Edwards Memorial Scholarship? You can make a donation directly to this fund, to help grow its impact and ability to provide educational resources for students in our community — forever!