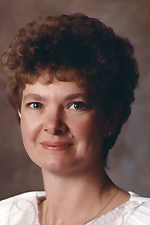 Diane Thompson-Wells Memorial Scholarship
To provide educational resources for marching members of the Phantom Regiments Drum & Bugle Corps. 
Essay
Describe circumstances or events that motivate you to work through challenging life events helping you in healthy life-long development. 
Criteria
Applicant must
- Be a graduating high school senior or current four-year college/university student;
- Have a GPA of at least 2.5/4.0;
- Demonstrate financial need;
- Be a marching member of the Phantom Regiment Drum & Bugle Corps.

Applicants may reside anywhere within the United States.
Biography
Diane Thompson-Wells was a long-time benefactor of the Phantom Regiment and a devoted step-mother to three children; two of which were multi-year members of the Corps.  Her contributions to the Corps included sewing drum covers and flag bags for members. She traveled extensively to shows delivering pay checks to staff, restocking souvenir items, and supporting her step children.  Her service to the Corps included being a member of the Board of Directors with positions of Treasurer and Board President (1997).
Diane grew up on the family farm of rented land in central Iowa, and earned her way through Iowa State University and Drake University with an MBA.  Professionally she was a Certified Management Accountant at Sundstrand Corporation (now Collins Aerospace Rockford) having the position of Director of Electronics Finance when she passed.
Diane Thompson-Wells passed away on June 16, 2000. Friends and family describe her as always striving to do her best, to be a leader, and encouraging others to do so as well.
A scholarship was created in her name to help support the educational goals of the Regiment's members.  The Diane Thompson-Wells Memorial Scholarship is available for active members of the Phantom Regiment who have a GPA of 2.5 or higher and who are enrolled in or will be enrolled in an accredited college or university for the fall semester. A scholarship is awarded once a year.
---
Would you like to support the Diane Thompson-Wells Memorial Scholarship? You can make a donation directly to this fund, to help grow its impact and ability to provide educational resources for students in our community — forever!