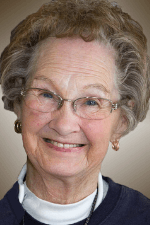 Elsie Jefko Carlson Scholarship
Supporting single parents who instill the importance of education, charity, and respect in their children.
Eligibility Criteria
Applicant must:
- Currently reside in Boone, Ogle, Stephenson, or Winnebago County.
- Be a single parent.
- Demonstrate financial need.
Written Prompt
Each CFNIL scholarship is created with a specific purpose in mind. As you complete the application, the system automatically matches you with every scholarship for which you are eligible and will present you with a specific written prompt for each. You're encouraged to craft a unique response to each prompt to show the reviewers why you're the best candidate for that scholarship.
Scholarship Background and Intent
Small in stature but huge in heart, perseverance, and faith, Elsie Jefko Carlson was determined to give her family stability and love even in the face of tragedy.  At twenty-eight years young, Elsie was widowed with eight children.  There are few that would have the strength to carry on, but at the heart of her strength was her faith.  She raised her family in Rockford and instilled in her children the importance of an education, charity, and respecting all others.  She kept her family together with her unfaltering faith and determination.  Elsie raised her children alone with hard work, love, and grace.  She took on small jobs and later became a business manager and truly showed what you can do by believing in yourself and living with the spirit of giving to others. She married again later in her life, and she lived each of those years with a true sense of joy. Elsie Jefko Carlson will always be remembered by those who had the privilege of knowing her – her smile, the twinkle in her eyes, and a huge heart of gold. Paying it Forward, the family hopes that all recipients of this scholarship carry on in a manner that reflects Elsie's zest for life and true love of family.
---
Would you like to support the Elsie Jefko Carlson Scholarship ? You can make a donation directly to this fund, to help grow its impact and ability to provide educational resources for students in our community — forever!