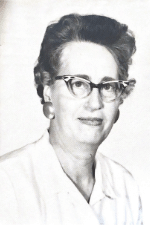 Irene K. Karsk Memorial Scholarship
To provide educational resources to Pecatonica High School seniors pursuing higher education and/or technical training. 
Essay
Considering the background and criteria of this scholarship, why are you the best candidate? Please describe who or what organization(s) have been influential in your development and how would you envision "giving back" to your community?
Criteria
Applicant must:
- Be a graduating senior of Pecatonica High School;
- Have a minimum unweighted GPA of 3.0/4.0; and
- Have been involved in community activities/service.
Biography
The Irene K. Karsk Memorial Scholarship is established by Dr. Roger S. Karsk and his wife Sharon P. Karsk, in 2020, in memory of Roger's mother Irene Katherine Karsk (December 9, 1909 – October 7, 1993) of Pecatonica, Illinois.
Irene was a life-long resident of the Pecatonica area (born in Irish Grove) and lived most of her life in the same house. She was a person who always saw the jar as half-full, and would easily say "yes" to a new request. She would always see the positive in others and wrote numerous recommendations for people. Irene worked 17 years (1959-1975) as the head cook of the Pecatonica CUSD 321. Her work paid for her son Roger's college tuition. When the first of her eleven grandchildren came along she said "I am too young to be called Gramma, they should call me Irene."
This scholarship is dedicated to Irene, in recognition of those who believe in "giving back."
---
Would you like to support the Irene K. Karsk Memorial Scholarship ? You can make a donation directly to this fund, to help grow its impact and ability to provide educational resources for students in our community — forever!