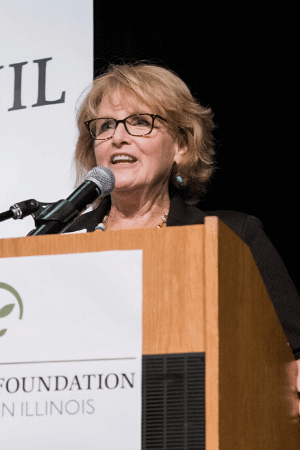 Nancy Kalchbrenner Scholarship
To provide educational resources for graduating seniors from Rockford District 205 High Schools who will be first generation college students.
Essay
Describe ways in which you have had to balance school, work and other commitments in order to succeed and any obstacles that made that especially difficult. How will this experience help you to be successful in college and beyond?
Criteria
Applicants must:

- Be a graduating senior from a Rockford District 205 high school;
- Be a first generation college student – i.e., applicant's parents, grandparents, etc. did not graduate with a degree from a post-secondary institution;
- Have a cumulative GPA of at least 3.0/4.0;
- Exhibit financial need (defined in the case of this scholarship as an EFC of 10000 or less); and
- Demonstrate the ability to achieve goals and balance work, school and volunteer activities.
Biography
This scholarship was established by Nancy Kalchbrenner's family and friends to honor her long-standing commitment to the Rockford community and to the Rockford Public Schools.

Nancy served faithfully on the school board for eight years and enthusiastically served as President for six years. Upon her retirement from the school board, her family and friends believed that a scholarship in Nancy's name was the ideal way to ensure that her legacy of service will live on.

"Nancy gave her heart and soul to the school district," said Donna Hayes, long time friend of Nancy's. "This scholarship means that each year a student will be awarded a scholarship in Nancy's name, and her dedication to education will be remembered and carried forward."
---
Would you like to support the Nancy Kalchbrenner Scholarship? You can make a donation directly to this fund, to help grow its impact and ability to provide educational resources for students in our community — forever!