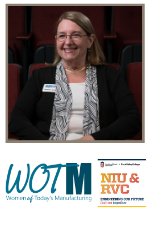 WoTM Ruthann Gaston Women in Engineering Scholarship
To support women studying engineering at local post-secondary institutions.
Essay
What do you hope to accomplish in your career as an engineer?
Criteria
Applicants must

- Be female;
- Be enrolled in the NIU Engineering at RVC program for the upcoming school year;
- Have a minimum GPA of 2.5/4.0.

Past recipients are eligible to reapply.
Biography
WOTM is a not-for-profit networking organization for professionals who are employed in, or serve, manufacturing in the Greater Rockford Area. The group is open to men, women, and young professionals, and offers a unique approach to networking and professional development with a strong focus on strengthening our scholarship program. Through interactive dinner meetings, manufacturing plant tours, and fundraising events, we are able to educate our members and serve our community.

Ruthann Gaston has volunteered with WOTM since its founding in 2003 and has been extensively involved in its activities, including the administration of WOTM's first scholarship with CFNIL, the WOTM Scholarship.
---
Would you like to support the WoTM Ruthann Gaston Women in Engineering Scholarship? You can make a donation directly to this fund, to help grow its impact and ability to provide educational resources for students in our community — forever!