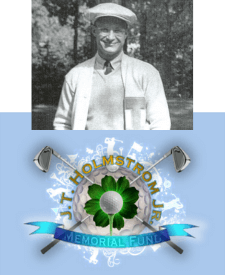 John T. Holmstrom, Jr. Memorial Golf Grant
Supporting Golf's Fine Traditions
John T. Holmstrom Jr. died on July 20, 2010. He was born on December 19, 1920 in Rockford, Illinois. He attended Jackson and Lincoln Schools, and graduated in the last class of Central High School. He received his bachelor's degree and law degree from the University of Illinois. He served as a captain in the U.S. Army Signal Corp in the Pacific Theater during World War II. John was a law partner at Holmstrom & Kennedy. He was a member of Second Congregational United Church of Christ.
He faithfully served his community by participating in numerous civic and political activities, including: Rockford Area Chamber of Commerce, United Way, SwedishAmerican Hospital, SwedishAmerican Medical Foundation, Community Hospital Council, P.A. Peterson Center for Health, the Rockford Pro-Am, and many more.
John was devoted to the growth and development of the Rockford Community Trust, now the Community Foundation of Northern Illinois. His service to this institution will always be remembered.
John was an avid golfer, winning five City Junior Championships, the State Amateur Championship, the Western Junior Championship, three Men's City tournaments and serving as the captain of the University of Illinois golf team that won two Big Ten Championships in the 1940s. John was a member of the Rockford Golf Hall of Fame. His memory and spirit live on through his wife, children, grandchildren, great-grandchildren, friends and colleagues.
Download the John T. Holmstrom, Jr. Memorial Golf Grant Guidelines
Download the John T. Holmstrom, Jr. Memorial Golf Grant Application