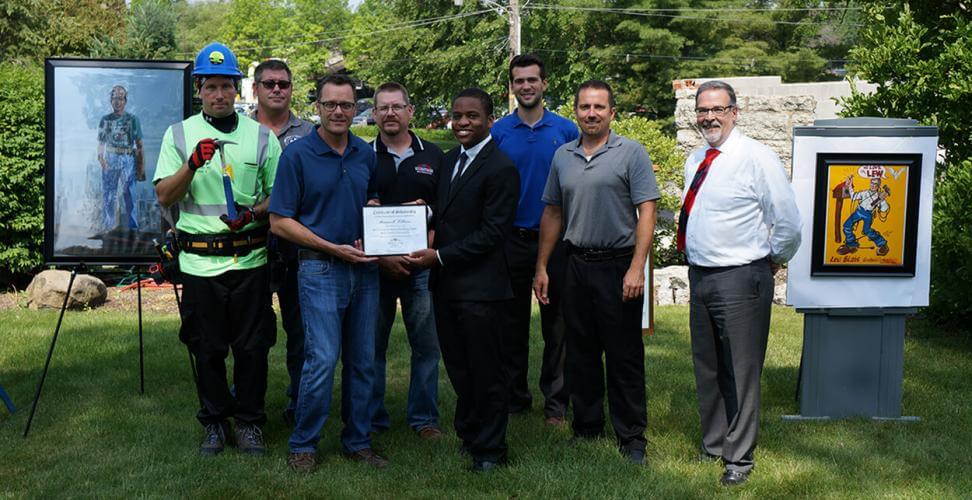 CFNIL and NWILBT Announce Celebrate Inaugural Scholarship Recipient
In a scholarship ceremony earlier today, the Community Foundation of Northern Illinois announced the inaugural recipient of the Northwestern Illinois Building Trades Blais Family Scholarship. Marquell Williams, a 2017 graduate of Auburn High School in Rockford, received the award that is available to children of members of the Northwestern Illinois Building Trades & Construction Council (NWIBT).
The scholarship was established by Robert J. Blais before his death in May 2016. The scholarship provides educational resources for children of members of the Northwestern Illinois Building Trades and Construction Council in Boone, Carroll, Jo Daviess, Lee, Ogle, Stephenson, Whiteside, and Winnebago Counties. (The complete history of and criteria for the scholarship can be found here.)
Williams' stepfather is an iron worker. Williams thanked his father for showing him the value of hard work. In his application essay, William wrote that "the labor union movement is the reason my stepdad can support my family. But, more importantly, the labor movement is a testament that there is no risk too great for the cause of equality and justice."
The Blais Family was represented at the scholarship ceremony by Anthony Street, Robert J. Blais' nephew. He spoke glowingly of his uncle and grandfather, Lew, who was deeply involved in Carpenter's Local 792. Anthony is currently a member of the same union. He brought paintings of his uncle and his grandfather to the celebration and thanked his grandfather for teaching him that a thing's cost is not its value. Brad Long, president of NWIBT, represented the unions.
Jon Bates, CFNIL President, said "we honored donor, iron worker, and storyteller Robert J. Blais who created the Northwestern Illinois Building Trades Blais Family Scholarship endowment, along with his son Nicholas. We also honored the endowment's first scholarship recipient, Marquell Williams."
Williams will attend Carthage College in Kenosha in the fall. He graduated Auburn with a 4.27 GPA and was involved in debate, marching band, student council, French Club, and Model UN during high school. He was enrolled in many dual-credit classes at Rock Valley College during high school and will enter college with four semesters' worth of credits. He has a passion for biology, chemistry, and mathematics, and plans to combine these interests by obtaining a Ph.D. in Healthcare Economics with the goal of becoming a professor at Rock Valley College.
Williams also received the Dr. Constance Goode Memorial Scholarship from the Community Foundation of Northern Illinois (CFNIL). Overall, CFNIL awarded 154 scholarship awards to 118 students from 28 local high schools. The scholarships will pay $237,250 in tuition at 75 colleges and universities across the country.
Because of the relationship forged during the establishment of the scholarship, NWIBT volunteered to reconstruct the historic auto house that sits on the southwestern corner of CFNIL's property. CFNIL is providing the materials and NWIBT is using a combination of rookie and veteran craftsmen to complete the project, with the goal of teaching younger members about historical preservation. CFNIL's main office was constructed in 1915 and it is believed that the auto house was built concurrently. Today's scholarship presentation took place on CFNIL's backyard, with the auto house providing an appropriate backdrop.