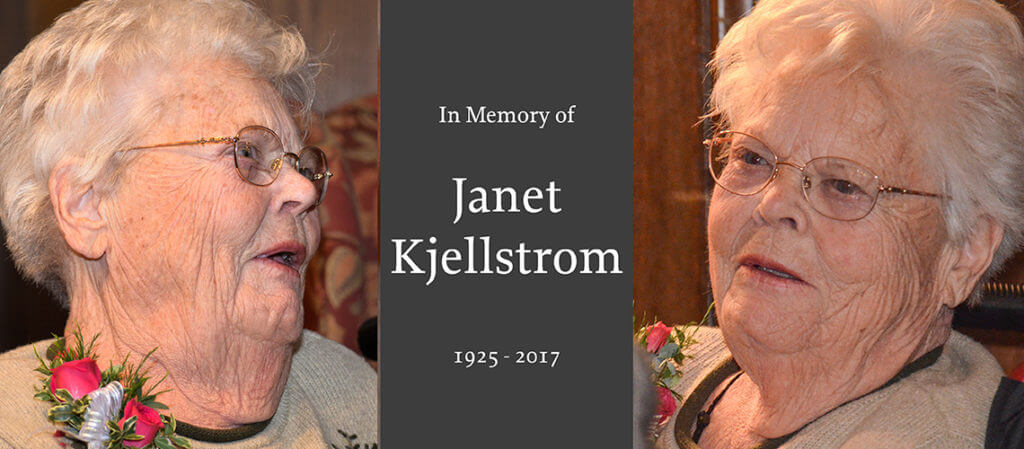 Remembering Janet Kjellstrom
Our most sincere condolences to all who knew Janet Kjellstrom, who passed away last month at the age of 92.
Janet was a wonderful friend to the Community Foundation of Northern Illinois and scores of local arts, healthcare, and educational organizations. We always looked forward to meetings with Janet. She will be remembered for her wit, her adventurous spirit, her generosity, and her love of Rockford.
There are many rooms in Rockford that bear the Kjellstrom name due to Janet's generosity. CFNIL is lucky enough to have a Kjellstroom room of its own. As with everything with Janet, there's a story to tell.
In 2001, after CFNIL had purchased the Lundberg House on North Second Street in Rockford, the organization had a lot of work to do to restore the historic building. CFNIL asked its donors to help cover the renovation costs. Janet was one of the first to volunteer, but on one condition—a room on the lower level with a special maple floor must be kept in place. She was moved by the room's original purpose. Charles Lundberg, the building's original resident, designed the room so his daughter could practice ballroom dancing. His design included the maple floors. Eighty-five years later, part of the room was slated to be replaced by an elevator shaft. Janet was firm, the elevator plans were re-drawn, and a father's gift to his daughter remained intact. Now, whenever CFNIL hosts meetings in the Kjellstrom Room, the story is recalled as an example of how our donors inspire us and help us understand our purpose: to create and preserve legacies.
CFNIL is proud to carry on Janet's legacy of generosity and love of our region. She will be missed but never forgotten.