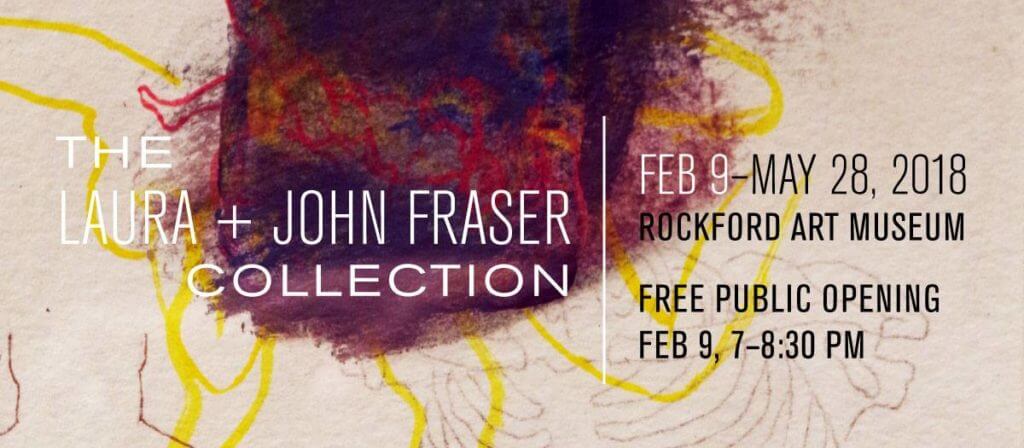 Rockford Art Museum | The Laura + John Fraser Collection
February 9, 2018
The Rockford Art Museum's new exhibition, The Laura and John Fraser Collection, opens tonight and surveys one of the most recent major gifts to the RAM Permanent Collection in its entirety. The Fraser Collection is a stellar compilation of 122 contemporary paintings, prints, drawings, mixed media, sculptures, and ephemera by an international roster of 57 artists, including several local and regional artists. Concurrent exhibitions at the museum include the 77th Young Artist Show and additional selections from the RAM Collection.
RAM received a $3,500 grant from the Community Grants Program of the Community Foundation of Northern Illinois with support from the Community Arts & Humanities Fund for The Laura and John Fraser Collection. "This grant award from the Community Foundation of Northern Illinois helps ensure our ability to reach out to our diverse community through art collection, exhibition and education, which is the heart of the mission of the museum," RAM Executive Director Linda Dennis said. The exhibit will run until May 28.
Founded in 1913, Rockford Art Museum exists to help make life in Rockford better for people of all ages through a permanent art collection, frequent art exhibitions, and lifelong art education. RAM is located inside Riverfront Museum Park at 711 North Main Street in downtown Rockford, Illinois. The current board chair is John Holevas; executive director is Linda Dennis. Learn more at rockfordartmuseum.org.