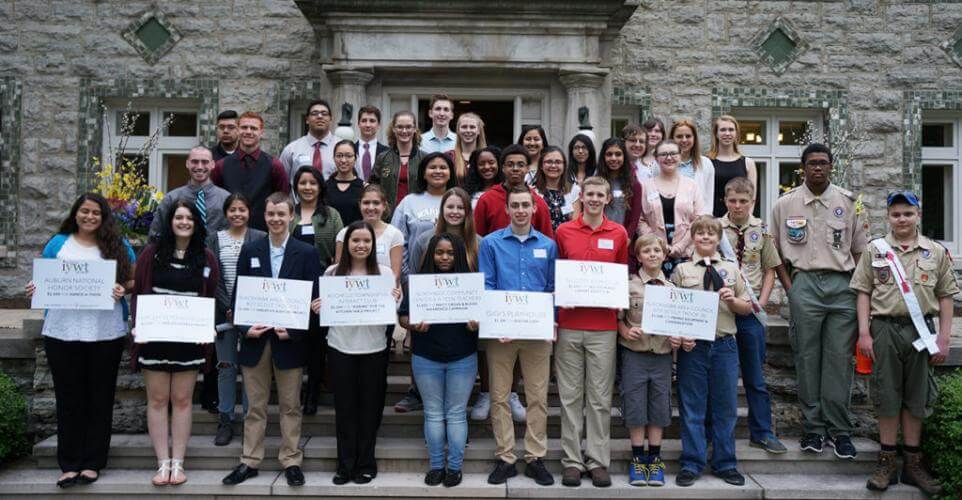 In Youth We Trusts Announces 2017 Grants
A few nights ago, under the threat of rain which never quite came, In Youth We Trust (IYWT), the Community Foundation of Northern Illinois' youth philanthropy group, presented checks to eight local youth-led organizations. In total the IYWT granted $18,200 to the Auburn High School (Rockford, Illinois) National Honor Society, Blackhawk Area Council Troop 32, Blackhawk Area Council Troop 181, GiGi's Playhouse – Rockford LLC, Harlem Veteran Project, Northwest Community Center's 4-H Teen Teachers, Rochelle Township High School's Interact Club, and the Talcott STEM Club.
Everything related to the grantmaking process–writing, budgeting, reviewing, and implementing–is led by the amazing young people in our region.
Here's an overview of this year's recipients:
Auburn National Honor Society
Dance-a-Thon
Dance-a-Thon is an annual event for local high school students. This year's Dance-a-Thon will raise funds and awareness for the Nikolas Ritschel Foundation, which supports cancer patients who are between 18 and 24 years old and therefore exceed the age limit for the Make-A-Wish Foundation. This year's Dance-a-Thon theme is superheroes and supervillains. It will take place on Friday, April 7 at the Tebala Event Center. This is the third grant that the Auburn National Honor Society has received from In Youth We Trust, all of which have supported the Dance-a-Thon.
$2,500 from the In Youth We Trust Endowment
Blackhawk Area Council, Boy Scout Troop 32
Harlem High School Bleacher Project
This project will build a handicap accessible ramp and platform overlooking Harlem High School's football field. The platform will be adjacent to the existing bleachers. Currently, there are no convenient or accessible ways for students with special needs to watch events from the stadium seating, causing them to be separated from their classmates.
$2,500 from the In Youth We Trust Endowment
Blackhawk Area Council, Boy Scout Troop 181
Fishing Equipment and Conservation
This summer, the Blackhawk Area Council, Boy Scout Troop 181 will purchase fishing equipment and use it to teach youth how to fish. Afterward, the poles, tackle boxes, and storage racks will be donated to local nonprofit organizations to create a fishing lending library. Fly fishing equipment and fly tying kits will be maintained by the Troop and available for courses to youth at community events. The conservation project will teach youth how to build aquatic habitats out of cinder blocks, cement, and rubber hoses, which provides shelter for smaller fish.
$2,500 from the In Youth We Trust Endowment
Gigi's Playhouse
Soccer Camp
This project will teach kids with Down syndrome who are involved with Gigi's Playhouse how to play soccer. There will be one session per week for six weeks. Each participant will receive their own soccer ball at the end of camp.
$2,200 from the In Youth We Trust Endowment
Harlem High School Veteran Project
The Harlem Veteran Project
This year, the Harlem Veteran Project will create documentaries about 25 veterans of foreign wars. When the documentaries are completed, each veteran will receive a copy of his/her documentary. At the end of the school year, the Harlem Veteran Project will put on a gala that will showcase portions of each veteran's story. This grant will allow the Harlem Veteran Project to purchase an additional camera for filming interviews, increasing the efficiency and quality of the productions. This is the fifth grant that Harlem High School has received from In Youth We Trust, all of which have supported the Harlem Veteran Project.
$2,500 from the In Youth We Trust Endowment
Northwest Community Center 4-H Teen Teachers
NWCC Organ & Blood Awareness Campaign
Currently, there are more than 120,000 people who need organ transplants in the U.S. Each year, thousands of people die while waiting for a transplant because no suitable donor can be found for them. The 4-H Teen Teachers are working to educate the public about the importance of becoming an organ donor. The Northwest 4-H Teen Teachers will host an NWCC Organ & Blood Awareness Campaign which will explain to the community how to become an organ donor and address myths about organ donation. This is the second grant that the Northwest Community Center has received from In Youth We Trust.
$1,500 from the In Youth We Trust Endowment
Rochelle Township High School Interact Club
"Karing" for The Kitchen Table Project
The Rochelle Township High School Interact Club is raising money so the Kitchen Table in Rochelle can purchase a walk-in freezer. The Kitchen Table is a nonprofit organization that welcomes all community members to enjoy a meal at the café, regardless of one's ability to pay. Patrons who cannot pay are asked to donate their time to the Kitchen Project. A walk-in freezer is required by sanitation regulations in order for the Kitchen Table to continue serving the community. This is the second grant the Interact Club has received from In Youth We Trust.
$2,500 from the In Youth We Trust Endowment
Talcott STEM Club
Talcott Public Library STEM Club
The Talcott STEM Club is starting a club at a local children's library. The purpose of this club is to engage children in engineering and technology at an early age. The Talcott STEM Club will teach them how to use various programming languages, design processes, and emerging technologies with Vex Robotics kits and other educational tools.
$2,000 from the In Youth We Trust Endowment