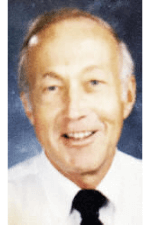 Fred Peterson, Jr. Memorial Scholarship
To provide financial encouragement for Hononegah Community High School students to pursue higher education.
Essay
Mr. Peterson received his education at liberal arts colleges in the Midwest that taught critical thinking and writing skills. How do you think a well-rounded liberal arts education will help you navigate a changing world?
Criteria
Applicant must:
- Be a graduating senior or graduate of Hononegah Community High School District 207;
- Have a cumulative unweighted GPA of at least 2.5/4.0;
- Attend a 4-year college or university;
- Demonstrate a commitment to their community through service and activities.
Preference will be given to those that demonstrate proper grammar and organized thoughts in their essay in honor of Mr. Peterson's dedication to clear communication and the written word. 
Past recipients may reapply. 
Biography
Fred S. Peterson, Jr, age 90 of Freeport, IL, passed away on Monday, March 30, 2020 at Parkview Home in Freeport. He was born August 15, 1929 in Rockford, IL; the son of the late Fred S. and Hilma (Erickson) Peterson, Sr. Fred graduated from East Rockford High School in 1947 and went on to graduate from Beloit College in 1951 where he was a member of Sigma Chi and was elected to Phi Beta Kappa.
Fred served in the United States Army for 2 years. He later graduated from Beloit College with his Masters in teaching in 1964. He worked in the family floral business for 11 years. He then taught English and Literature at Hononegah High School for 30 plus years. He was a member of the Rockton Methodist Church. Fred was an avid traveler, traveling the whole world. He was also a patron of the fine arts.
Fred said if anyone wants to honor his memory they should read a good book and use proper grammar.
Many friends, colleagues, and former students posted memories and condolences on his obituary page. Their fondness for Mr. Peterson cannot be overstated! We encourage you to take the time to read their comments. Here are a few highlights:
Fred had a huge impact on my life. I had him for freshman English, and after that my favorite place to be was in his room at lunch and after school. He told it like it is and he always cared. He was a master at urging students to reach higher goals than they think they can ever reach. Fred Peterson was my standard for a true teaching-and-learning academic. His excellence will be missed, but I wish him all the glory he deserves in that linguistic haven in the sky. - Phillip Fischer
Mr. Peterson was one of my favorite teachers. I only had him as a teacher my freshman year, but I enjoyed talking with him about books, music, and Shakespeare between classes and after school all four years. When I graduated, he gave me a book called Shakespeares Flowers, and a copy of Great Expectations. I still have both, even after 30 years. He will be missed. - Lauren (McCardle)
1988 HHS Grad here. I had Mr. Peterson for Grammar my senior year. You always wanted those "easy" classes for your final year and I'm not sure what made me decide to take his class, but I'm SO glad I did! He was one of my favorites. He treated our class like adults and it seemed very collegiate, which we all appreciated. I loved diagramming sentences and listening to him teach. He was one of the greats!! Rest in peace and watch your sentence structure!! - Jason Buske
Best English teacher I ever had. He taught me to write - now my first book is coming out next Spring. I had been hoping to show it to him. There aren't enough tears to cry. RIP, Mr. Peterson, and flights of angels sing thee to they rest. - Julie DiCaro
---
Would you like to support the Fred Peterson, Jr. Memorial Scholarship? You can make a donation directly to this fund, to help grow its impact and ability to provide educational resources for students in our community — forever!