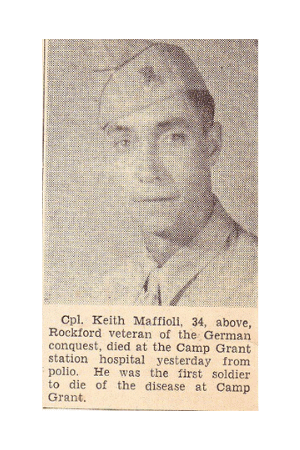 Keith Maffioli Scholarship
Established through a bequest from Flora June Fredine in memory of her son who died in 1945 after serving with the Twenty-Eighth Army Division during the liberation of Europe. The scholarship exists to provide awards to "worthy scholars who otherwise might not receive a college or university education."
Essay
Taking into consideration the background and criteria of this scholarship, why are you the best candidate to receive it? You may want to discuss your past academic or personal achievements, leadership skills, community and school involvement, or obstacles you've overcome.
Criteria
Applicants must:

- Be graduating seniors from a high school in Boone, Ogle, Stephenson, or Winnebago County;
- Have a GPA of at least 3.25/4.0;
- Have an EFC between 4,800 and 8,000; and
- Plan to attend a college (including technical, business and community colleges) or university.
Would you like to support the Keith Maffioli Scholarship? You can make a donation directly to this fund, to help grow its impact and ability to provide educational resources for students in our community — forever!