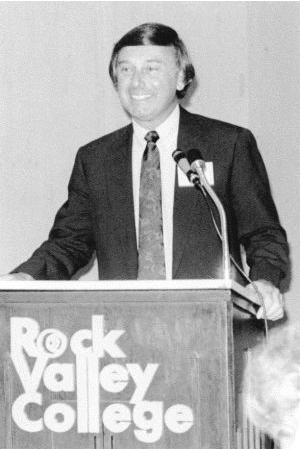 Richard L. Bernardi Memorial Scholarship
Supporting Rock Valley College students who are using their community college education to pursue their goals.
Eligibility Criteria
Applicant must:

- Be attending or plan to attend Rock Valley College in the upcoming school year.
- Demonstrate enthusiasm and leadership.
- Demonstrate financial need.
Written Prompt
Each CFNIL scholarship is created with a specific purpose in mind. As you complete the application, the system automatically matches you with every scholarship for which you are eligible and will present you with a specific written prompt for each. You're encouraged to craft a unique response to each prompt to show the reviewers why you're the best candidate for that scholarship.
Scholarship Background and Intent
August 7, 1937 – December 23, 2002

Richard L. "Dick" Bernardi, son of Adam and Lois Bernardi, was born and raised in LaSalle, Illinois. After graduating from LaSalle/Peru High School, he received an Associate of Arts degree from LaSalle-Peru-Oglesby Junior College, a Bachelor of Science from Northern Illinois University, and a Masters of Arts from Colorado State College. He was a member of the honorary history fraternity, Phi Alpha Theta.

Dick Bernardi began his career as an educator teaching English in a junior high school in the Los Angeles City School System. While teaching in Los Angeles, he received his administrative credentials from California State University. He returned to Illinois in 1967 to accept a position as Professor of History at the newly established Rock Valley College and remained there for 28 years. While at RVC he was Faculty President, Director of Admissions and Records, and for 17 years, Dean of Liberal Arts and Sciences.

Throughout his life Dick was an avid sportsman and athlete. In elementary school he played baseball, and during his middle school years, his father taught him to play golf and to hunt. In high school he lettered in tennis, basketball, and football. Tennis became his passion and the sport in which he excelled.

Dick was a true champion. During his collegiate career, he was a junior college team champion, doubles champion and singles champion. He was the No.1 singles player, captain, and most valuable player at Northern Illinois University. He qualified for the U.S. Open Family Challenge with his son, Brent, and his daughter, Stacy. Between 1951 and 1997, be was a champion or finalist in over 250 tournaments including winning seven Rockford City Championships. He was honored for his accomplishments by being inducted into the NJCAA Men's Tennis Hall of Fame in 1998 and being named N4C Conference and Region TV Coach of the Year in 1994, 1998, and 1999.

Dick loved the game of tennis and shared his passion for the game by serving as tournament director for over 150 sanctioned tournaments. He served as the NJCAA Region IV Men's Tennis Tournament Director for 12 years, president of Northern Illinois Association for 12 years, and the Central Community College Conference men's tennis referee for 11 years. He coached RVC women's tennis team for 11 seasons. His 1998 squad competed in the NJCAA national tournament.

Dick Bernardi was an exuberant man. He approached all aspects of life with passion and intensity. He was eminently kind, fair, and honorable. He had an incredible sense of humor and knew when to laugh at himself. He gave lovingly of himself to his family, friends, pets, and community.

He believed education was the key to a successful and useful life. He also believed a person could be anything they wanted to be if they worked hard and prepared. He encouraged everyone to excel in whatever he or she chose to do. He was highly competitive, and although he loved to win, he believed the important thing was to always perform at the highest level. His enthusiasm and love for life were conveyed to those whose lives he touched.
---
Would you like to support the Richard L. Bernardi Memorial Scholarship? You can make a donation directly to this fund, to help grow its impact and ability to provide educational resources for students in our community — forever!